Fall is my favorite time of year, and not just because I love hot chocolate and apple crisp,
it's also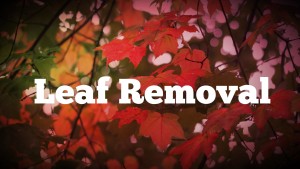 because we enjoy helping our clients with leaf removal and fall cleanups!
The weather in the Fairfield area is just perfect for yard cleanups.
It is so nice out, I usually will grab lunch at Whole Foods in Darien, to go, sit outside and appreciate the gorgeous colors, too.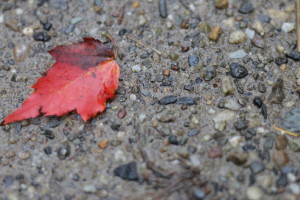 Did you know that those colors are actually there in the leaves all year long? 
It is just that the green is more dominant.  It is the shutting down of the chlorophyll 'factories' in the leaves cell that 'turn off' the green color/pigments.
As the green pigments turn off, the dominant colors hidden while the factories are working start to show.
Soon after, the leaves will come down. And will need to be cleaned up.

During the first week or so of the leaves falling, it is fine to chop them up and add some extra, free fertilizer to your lawn.
Bren is serious about responsible land stewardship so we are big advocates of working with nature's processes.
I actually have a brother-in-law who will chop and chop and chop leaves throughout autumn.  His lawn is lush and that is the only fertilizer he uses all year long.
Use those finely chopped leaves early to boost the feeding of your grass, but within a couple of weeks when they start falling heavily, it is best to do a thorough leaf removal.  Leaves left on your grass can smother it or, if wet, add fungus, which weakens it immediately and can kill it in the long run.
Remember, chopping leaves and leaf removal takes hours and hours every weekend.  That's not bad when the kids are playing in the yard or when he's teaching one of them to drive the mower.  It's a nice way to spend a few hours if you have the time.
If you don't have that amount of time, please give us a call.  My team h
as worked together for years.  Our work is efficient, thorough, and reasonably priced.
We like what we do, and we'd be glad to keep your yard looking great all fall, and all year long.
Enjoy your autumn